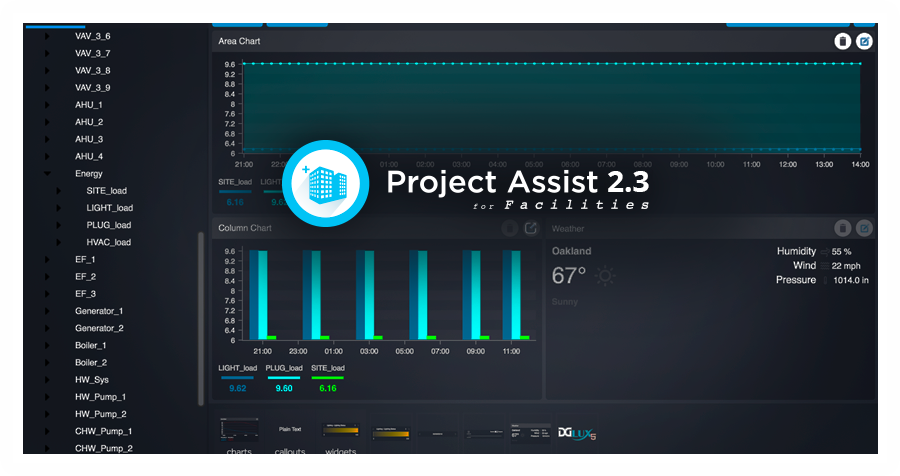 READ BEFORE DOWNLOADING AND INSTALLING!!!
This is the Project Assist 2.0 for the Facilities project template ONLY. If you already have DGLux5 installed, you can download this file and import it into your DGLux5 instance as a project. Inside DGLux5 go to Project > Import Project.
Details
Last Updated: July 22, 2020
Project Assist Latest Version: 2.0.688
File Size: 25.6 MB
Changelog
Version 2.0.679
1. Fixed export files feature on the home page.
2. Improved Niagara schedule custom filter.
3. Fixed issue with icons next to nodes in the project tree.
4. Fixed breadcrumb navigation to scroll properly in a viewer mode.
5. Fixed project export feature when exporting with navigation.
6. Fixed issue with breadcrumb navigation not being deployed on mouseover.
7. Fixed issue when viewer values could be dragged & dropped on the text.
8. Improved creating an event in the Schedules module on the iPhone.
9. Internal dataflow logic optimizations.
Version 2.0.657
1. Fixed chiller image in the HVAC library.
Version 2.0.647
1. Fixed AM/PM dropdown in the DGTime input component in Firefox.
2. Added option to the navigation node editor to control alarms rollup.
3. Fixed calendar schedule events that don't sync up between PA and Niagara.
4. Improved alarms list sorting.
5. Minor improvements in the French localization.
6. Fixed reordering in the Node List widget.
7. Fixed scrolling issue on the schedule Exceptions tab.
8. Fixed issue with the event's start/finish time.
9. Fixed issue when sometimes December was not on the list when editing an event.
10. A scheduler is now open on a weekly schedule by default.
11. Added warning message to the Report module when changes were not saved.
12. Improved navigation right-click menu visibility.
13. Fixed issue with "Strict Navigation" user setting.
14. Added a button to remove the background image on the location page.
15. Fixed a sorting issue in the navigation panel that could remove items in the list.
Version 2.0.623
1. Added new option to Style Manager to be able to position the navigation tree on the right side of the screen.
2. Added option to Editable Text callout to be able to create unique instances across template nodes.
3. Fixed issue with Visibility option in Editable Text and Node Callout widgets.
4. Fixed issue with Weather widget.
5. Fixed issue with flanged horizontal and vertical piping graphics sections not stretching.
6. Fixed issue with Remote Templates not displaying graphics when the Hide Navigation Tree option was toggled ON.
Version 2.0.576
1. Added History popup feature to Node Callout widget.
2. Added Editable Text callout widget whose text can be edited by Admin users in the project viewer.
3. Added ability to add custom fonts to projects so that they can be used by any widget that has text font options.
4. Added ability to zoom into chart area both horizontally and vertically.
5. Added strict navigation feature to the user permissions window.
6. Updated Data Action Dialog to change anchor position when opened too far right.
7. Modified Reports to display the current date range if the report does not have a predefined date range.
8. Modified DVR widgets to follow the current date range when playback is disabled.
9. Modified Alarm Console to properly show alarm counts and filter for Alarm Class properly.
10. Modified Status Binding Text to return 'ok' instead of null.
11. Added protection to locale reload feature - should not occur from index.html.
Version 2.4.525
1. French (France and Canada) and German translations have been improved and are now more comprehensive.

Version 2.0.433
1. Updates to Niagara Scheduler:
- Added Schedule Filter Property.
- Added Weekly Schedule as Default Tab.
- Fixed multiple Schedule issues.
- Custom Last Day of Month no longer highlights Any Day at the same time.
- Last Day and Last 7 Days can no longer be highlighted at the same time.
- Max Schedule Event Name length now longer than 13 characters.
2. Added Custom Label to Weather Widget.
3. Improved DE translation.
4. Added functionality to enable the Page Include module to be used to launch a URL as a new tab or window.
5. Improved compatibility with Atrius Solution Builder.
Version 2.0.421.1
1. Fixed Niagara Schedule module save button issue on IOs devices.
2. Fixed Niagara Schedule module exception day display issue.
3. Fixed imported histories issue with the Report Module and in the Data Tab and the Bind Dialog with Niagara.
Step by Step Installation Instructions & Requirements
Read complete installation instructions and requirements by clicking here.